Description
The Gerflor Acoustic 15dB under lay in a roll offers highly effective impact sound insulation that has been specially developed for use with Gerflor LVT Clic. With an impressive reduction of up to 15dB, this underlay makes a significant contribution to improving acoustic comfort in your rooms.
The most important features at a glance:
15 dB impact sound insulation: the Acoustic 15dB underlay provides excellent sound insulation, resulting in a significant improvement in the acoustic experience. Enjoy peace and comfort in your rooms.
Easy handling and installation: Each roll contains a generous 15 square metres and weighs just 3 kg. The easy handling not only facilitates transport, but also enables uncomplicated installation.
Environmentally friendly: With up to 80% recycled material and 100% recyclable, Gerflor Acoustic 15dB underlay is an environmentally friendly choice. Contributing to sustainable living without compromising on quality.
Homologated with Gerflor LVT Clic: The underlay is officially homologated and optimised for use with Gerflor LVT Clic, ensuring a perfect fit and performance. Especially suitable for Senso Premium Clic, Virtuo 30 Clic and Virtuo 55 Clic.

Choose Gerflor Acoustic 15dB underlay for outstanding impact sound insulation, easy installation and environmental friendliness. Experience maximum comfort and peace in your rooms.
Gerflor, a leading flooring manufacturer, has a 70-year history of producing resilient floor coverings for residential and commercial applications. The French company was founded in Lyon in 1937 and always focused on innovation, healthy materials and aesthetic floor design when developing new flooring solutions. Gerflor is right about its success - numerous awards attest to the first-class quality, the design, and the environmentally friendly aspect of Gerflor products. The Red Dot Award competition honors Gerflor's Creation 70 with the Red Dot Award for Product Design 2016.
Technical Details
item no.
17980001
Manufacturer
Gerflor
Length in mm
15000
Width in mm
1000
Thickness in mm
0,93
EAN
4062212056707
Shipping group
S
Weight
3,38 kg/Packing
suitable for
Vinyl floor
Package Content
1 Rolle
Downloads
Gerflor Trittschalldämmung Acoustic 15dB - Datenblatt
We will help you with your questions!
A specialist adviser will be happy
to advise you personally.
☎ +49 5222 960 4810
Mon - Fri:
9am - 6pm

Sat:
9am - 2pm
Installation instructions for impact sound insulation rolls
Variant: DIY instructions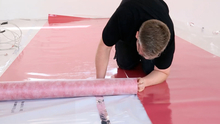 button
1. Preparation & placing of the rolls

Observe the official laying instructions provided in every package before laying the rolls, otherwise any warranty or guarantee claim will be invalid.
The subsurface should be firm, level, dry, and dust-free before laying. Before placing, thoroughly vacuum the subfloor. Store the insulating mat in the room for about 24 hours before installing it to allow the material to adapt. As soon as the substrate has been checked, the first sheet can be laid out in a well-positioned spot in the opposite direction of the top floor covering. Simply cut the first mesh from the roll using a cutting knife to separate it from the roll. When installing parquet, the rough side is laid down. When placing vinyl, the rough side should be up. A cutting knife can easily separate the mesh. To avoid overlap, the succeeding lanes are now placed end to end on the ones already in place.
ATTENTION: Please note that the edge distances of about 5 mm from the wall should be maintained.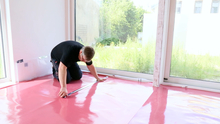 button
2. Fix panels

To prevent the footfall sound insulation strips from slipping while paving the floor, secure them at the abutting edges using aluminium tape. Check that the strips do not overlap. There should be places of contact only at the abutting edges. You can now begin to install the floor.
To make your own, you will need this
Material:
Impact sound insulation rolls
Tools:
Working time:
Approximate time: 1-2 hours for a room of 15-20 m2.
Difficulty level:
Individual offer?
Are you looking for a lower price? Just ask us for an individual offer!