Description
Application of PUFAS Mould Spray:
PUFAS Mould Spray can be used on all mineral surfaces - such as plaster, concrete, ceramic tiles, bricks and emulsion paint coats. However, sensitive and coloured materials - such as wallpaper, wood, textiles, cork, metals and plants - may change colour. Accidental splashes should be removed immediately with water.
With the mould spray from PUFAS, you don't give mould and mildew stains a chance. Remove mould reliably and sustainably before it spreads and becomes a serious health hazard. It is important that you find out the cause of the mould infestation and eliminate it. Cold bridges in the façade, excessive humidity especially in the kitchen or bathroom, a leaking water pipe or insufficient ventilation are often the reason for mould in the home or in buildings.
To permanently remove mould, the affected areas are sprayed evenly with the mould spray from a distance of about 20 cm. Only 50 to 100 ml of PUFAS Mould Spray is sufficient to thoroughly remove an area of 1 m². After a reaction time of 30 minutes, mould and green coatings, mould stains or algae can be easily washed off. You can hardly remove mould more simply and safely!
Always think of your personal protection when fighting mould. Handling mould control agents - no matter which agent you work with - requires you to wear appropriate protective clothing. Mould spores suspended in the air can also endanger your health. Therefore, if you are fighting mould effectively, you should always wear a respirator, protective goggles, protective gloves and a protective suit. If you adhere to these precautions, nothing will stand in the way of combating mould with PUFAS Mould Spray.
Hazard pictograms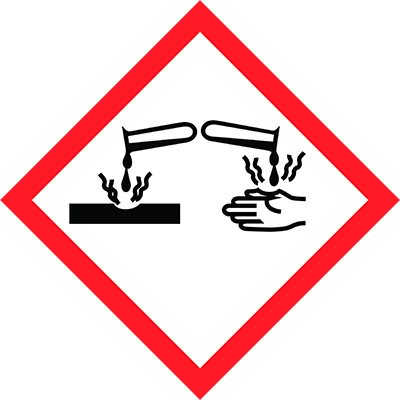 Signal word: Danger
Hazard statements (H-phrases)

(H290) May be corrosive to metals.
(H314) Causes severe skin burns and eye damage.
planeo is the brand for professional solutions with tested quality. In our extensive range, you will find first-class products for home and garden, from floors to wall coverings to decking: we offer you suitable items with a top price-performance ratio for almost every requirement and budget. We also have product lines such as carpets, wall paints, wallpapers and doors. The range of attractive offers for walls, floors and patios is rounded out by high-quality accessories and effective cleaning and maintenance products. Meanwhile, planeo's services go beyond the trade in floor coverings. We put great emphasis on the idea of service in everything we do. We deal with the topics of material, handling and realisation in such detail that we can provide you with an adequate solution for many different situations on the building site. To make things more clear, you can find useful tips and instructions in our guides with articles and videos. Beautiful flooring and more? Realise easily with planeo.
We will help you with your questions!
A specialist adviser will be happy
to advise you personally.
☎ +49 5222 960 4810
Mon - Fri:
9am - 6pm

Sat:
9am - 2pm
Individual offer?
Are you looking for a lower price? Just ask us for an individual offer!