Description
The planeo Fassado rhombus strip gives your façade first-class weather protection, durability and a natural as well as individual look thanks to its solid quality wood composite material.
Easy maintenance
Thanks to the WPC material, the profiles are very easy to maintain. You can completely dispense with varnish, glazes or oils.

Ventilated system
Because the façade profiles are hung in front of a substructure, a rear-ventilated system for water vapour dissipation is created.

Installation
The façade trim can be mounted vertically or horizontally. To finish off the corners, you can mitre the façade profiles or use the stainless steel façade corner. It is easy to install and forms a secure transition to the skirting board.
Your staple requirement:
Initial staple: 2-3 pieces per linear metre
flexible & easy assembly
durable & weatherproof
easy to clean & environmentally friendly
extremely low maintenance & energy efficient
sustainable & recyclable
planeo is the brand for professional solutions with tested quality. In our extensive range, you will find first-class products for home and garden, from floors to wall coverings to decking: we offer you suitable items with a top price-performance ratio for almost every requirement and budget. We also have product lines such as carpets, wall paints, wallpapers and doors. The range of attractive offers for walls, floors and patios is rounded out by high-quality accessories and effective cleaning and maintenance products. Meanwhile, planeo's services go beyond the trade in floor coverings. We put great emphasis on the idea of service in everything we do. We deal with the topics of material, handling and realisation in such detail that we can provide you with an adequate solution for many different situations on the building site. To make things more clear, you can find useful tips and instructions in our guides with articles and videos. Beautiful flooring and more? Realise easily with planeo.
We will help you with your questions!
A specialist adviser will be happy
to advise you personally.
☎ +49 5222 960 4810
Mon - Fri:
9am - 6pm

Sat:
9am - 2pm
Installation guide of the facade
Variant: DIY-Instruction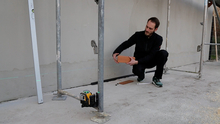 button
1. substrate preparation
In order for the facade to have the desired longevity, it is essential that the substrate is load-bearing. The building can also be insulated before the facades are applied.
ATTENTION: Please maintain at least 30 cm ground clearance for splash water protection on wooden buildings.
Before installation, it is imperative that the official installation instructions, which are included in every package, are followed, otherwise all warranty and guarantee claims will be void!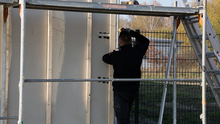 button
2. attaching the substructure
Before attaching the substructure, first, make markings to determine the positions of the battens and then mount them. Also, plan corner or end profiles at the corners and dowel the profiles to the masonry. To ensure that the facade is also well ventilated, drill ventilation holes in the battens. The battens are now placed at a maximum distance of 65 cm from each other. Also plan for board joints and edge distances and double-fix the substructure at the joints.
Tip: You can attach grids to the gable and base to protect them from small animals.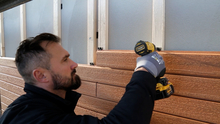 button
3. attach the façade cladding
Mark all the positions of the Starclips with the help of a chalk line and place the Startclips in a well aligned position. Stick the Compriband onto the end profiles and screw the profiles to the corners of the building. Small animal grids can also be attached to the base termination as protection. Now the facade cladding can be attached. With the help of a rubber mallet, you can fix the next rows to the already mounted facade.
ATTENTION: Please note that edge distances of approx. 10 mm should be observed.
What you will need to make it yourself
Material:
Tools:
Spirit level
Striking cord
Crosscut saw
Battens
Folding rule
Pencil
Cordless screwdriver
Rubber mallet
Starting clips
Spacer
optional:
Small animal protection sleds
Waterline laser
Hammer
Straightedge
Edge trim profiles
Facade edging profiles
Individual offer?
Are you looking for a lower price? Just ask us for an individual offer!