Description
The planeo StoneWall Light natural stone wall cladding is a robust and flexible stone facing with a tangible structure and real natural stone veneer.
Easy to process
planeo natural stone facing bricks are easy to work with and can even be used on slightly uneven wall surfaces such as ingrain wallpaper or textured plaster.
Easy to clean & colourfast
The facing bricks are easy to clean and resistant to colour changes.
Robust and durable
Frost, heat and moisture do not affect the wall cladding.
Processing:
The first thing to ensure is whether the substrate needs to be treated with adhesive primer. The substrate should be dust-free and firm. The wall facing bricks are applied with suitable ready-to-use adhesive.
Tools and consumption:
The serration of the trowel should be approx. 4x4 mm and the consumption of the ready-to-use adhesive is approx. 2.3 kg/m². An angle grinder with a stone cutting disc is required for cutting the facing bricks to size.
planeo is the brand for professional solutions with tested quality. In our extensive range, you will find first-class products for home and garden, from floors to wall coverings to decking: we offer you suitable items with a top price-performance ratio for almost every requirement and budget. We also have product lines such as carpets, wall paints, wallpapers and doors. The range of attractive offers for walls, floors and patios is rounded out by high-quality accessories and effective cleaning and maintenance products. Meanwhile, planeo's services go beyond the trade in floor coverings.
We put great emphasis on the idea of service in everything we do. We deal with the topics of material, handling and realisation in such detail that we can provide you with an adequate solution for many different situations on the building site. To make things more clear, you can find useful tips and instructions in our guides with articles and videos. Beautiful flooring and more? Realise easily with planeo.
We will help you with your questions!
A specialist adviser will be happy
to advise you personally.
☎ +49 5222 960 4810
Mon - Fri:
9am - 6pm

Sat:
9am - 2pm
Stone Wall installation guide
Variant: DIY-Instruction
button
1. substrate preparation
The substrate must be dimensionally stable, clean, dry and free of loose and adhesion-reducing components. We recommend priming the substrate with a universal primer to increase adhesion.
Tip: If you want to remove the glue without leaving any residue in the future, you can apply woodchip wallpaper to the substrate and pre-treat the substrate with a special primer to prevent the wallpaper paste from coming off due to the ready-made adhesive.
Before installation, it is imperative that you follow the official installation instructions included in each package, otherwise any claim under warranty and guarantee will be invalidated!
button
2. before gluing
In the first step, plan the installation pattern of the wall facing and set the markings with a pencil. Before you glue the panels to the wall, you can lay out the installation pattern on the floor to plan the structure and colour gradient. Mix panels from 2-3 different packages to achieve the best possible installation pattern. Next, apply the finishing profile with a mounting adhesive.
ATTENTION: The wall cladding should be stored horizontally in the room in which it is to be installed for at least 48 hours before installation in the packages. This will allow the material to acclimatise to the room temperature and it will not "work" as much after installation.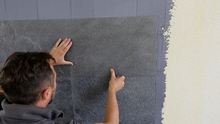 button
3. gluing
Apply the ready-mixed adhesive evenly over the entire surface of the wall using a notched trowel. Then insert the wall facing bricks, press them on and roll them on with a roller. To cut a panel, mark the cut edges and cut it with a cutting disc.
Tip: Glued residues should be washed off with clear water before drying.
What you will need to make it yourself
Material:
StoneWall veneer
Ready-made adhesive
Primer
Sandpaper
Tools:
Spirit level
Pencil
Cutting disc
Folding rule
Roller
optional:
End strips
Assembly adhesive
Individual offer?
Are you looking for a lower price? Just ask us for an individual offer!