We just need your E-Mail and shipping address.
Feel free to add more samples to your sample cart afterwards.
Description
The versatile planeo acoustic wall cushion decorates your interior wall, whether in the private or commercial sector. In addition, it dampens the acoustics in the room and provides a comfortable ambience.
Configuration diversity: The design options for the wall are measured according to your ideas and creativity. You decide the shape, colour and arrangement!
Acoustic insulation: The dense polyurethane foam gives the wall cushion not only a beautiful shape and softness, but above all exceptional acoustic properties. With 20-30% wall coverage with acoustic wall cushions, sound reflections are significantly reduced.
Easy installation: The wall cushion panels are glued to the wall using installation adhesive1.
1Follow the installation instructions!
planeo is the brand for professional solutions with tested quality. In our extensive range, you will find first-class products for home and garden, from floors to wall coverings to decking: we offer you suitable items with a top price-performance ratio for almost every requirement and budget. We also have product lines such as carpets, wall paints, wallpapers and doors. The range of attractive offers for walls, floors and patios is rounded out by high-quality accessories and effective cleaning and maintenance products. Meanwhile, planeo's services go beyond the trade in floor coverings.
We put great emphasis on the idea of service in everything we do. We deal with the topics of material, handling and realisation in such detail that we can provide you with an adequate solution for many different situations on the building site. To make things more clear, you can find useful tips and instructions in our guides with articles and videos. Beautiful flooring and more? Realise easily with planeo.
Technical Details
item no.
MO-60x30-MV99
Manufacturer
planeo
Length in mm
600
Width in mm
300
Thickness in mm
40
Material
Wall-mounted headboards
suitable for
Children's room, Wall-mounted headboard, Private, Business, Bedroom & living room
Special features
Pet Friendly, Wall acoustics
EAN
4062212157206
Collection
SoftWall
Fabric type
Velvet
Piece per package
1.0
Shipping group
XS
Type
Wall cushion
Weight
1,04 kg/Packing
Package Content
1 Pc
Show all data ▼

Downloads
planeo Softwall - Montageanleitung
We will help you with your questions!
A specialist adviser will be happy
to advise you personally.
☎ +49 5222 960 4810
Mon - Fri:
9am - 9pm

Sat:
9am - 2pm
Wall cushion installation guide
Variant: DIY-Instruction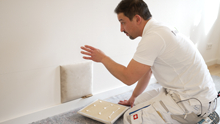 button
1. substrate requirements
The substrate must be load-bearing, smooth, clean and dry.
button
2. assembly
In the first step, draw a line with a spirit level so that the wall cushions can be glued neatly in level. Now you can start gluing from the centre. Place a few dots of the assembly adhesive on the back of the wall cushion and glue the first wall cushion so that the top edge meets the drawn line. Stick the next wall cushions butt to butt so that there are no gaps. For light switches/cables etc. the wall cushions can be cut. The fabric can also be cut through with a cutter knife.
Tip: Slide small plates of cardboard under the first row of glued wall cushions so that they do not slip down.
What you will need to make it yourself
Material:
Wall cushion
Mounting adhesive
Tools:
Spirit level
Folding rule
Pencil
Cutter knife
Level of difficulty:
Individual offer?
Are you looking for a lower price? Just ask us for an individual offer!