We just need your E-Mail and shipping address.
Feel free to add more samples to your sample cart afterwards.
Description
Design your rooms and walls yourself quickly and easily with the DesignWall Aqua from planeo and create real eye-catchers with this versatile wall covering.
beautify your home
Generous areas in particular are tastefully set off with wall cladding. Old wall tiles can be covered without much effort. This is how you create change in your home with simple means and manageable costs.
uncomplicated handling

You can easily apply the DesignWall Aqua panels yourself. All you need is a cutter knife and some adhesive strips. No professional tools are needed.
sustainable & environmentally conscious
DesignWall Aqua is made of hard foam plastic and is therefore recyclable.
The most frequently asked questions about planeo wall cladding !
Please note that you have to order additional adhesive strips for cut edges of the panels !
planeo is the brand for professional solutions with tested quality. In our extensive range, you will find first-class products for home and garden, from floors to wall coverings to decking: we offer you suitable items with a top price-performance ratio for almost every requirement and budget. We also have product lines such as carpets, wall paints, wallpapers and doors. The range of attractive offers for walls, floors and patios is rounded out by high-quality accessories and effective cleaning and maintenance products. Meanwhile, planeo's services go beyond the trade in floor coverings.
We put great emphasis on the idea of service in everything we do. We deal with the topics of material, handling and realisation in such detail that we can provide you with an adequate solution for many different situations on the building site. To make things more clear, you can find useful tips and instructions in our guides with articles and videos. Beautiful flooring and more? Realise easily with planeo.
Technical Details
item no.
832033
Manufacturer
planeo
Length in mm
600
Width in mm
300
Thickness in mm
4
Material
Plastic
suitable for
Shower, Bath, Bedroom & living room, Hallway & Corridor
Installation type
self-adhesive
Look
Stone effect
Special features
Seamless, Simple assembly
EAN
8436554832033
Collection
DesignWall Aqua
Piece per package
9
Sale%
Black Week
Shipping group
S
Weight
4,70 kg/Packing
Package Content
1.62 m²
Show all data ▼

Downloads
planeo DesignWall Aqua - Datenblatt
planeo DesignWall Aqua - Montageanleitung
We will help you with your questions!
A specialist adviser will be happy
to advise you personally.
☎ +49 5222 960 4810
Mon - Fri:
9am - 6pm

Sat:
9am - 2pm
Wall cladding DesignWall Aqua
Variant: DIY-Instruction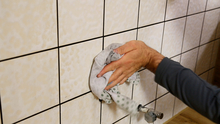 button
1. substrate preparation
The substrate must be clean, dust-free and dry before the installation. To begin, remove all objects from the walls and place the profiles at the door areas. Thoroughly clean the surface to be installed before bonding to ensure optimum adhesion of the panels. Next, determine the reference point, and mark it with a spirit level and pencil.
Tip: The wall cladding can be bonded to wallpaper, tiles, etc.
Before installation, it is imperative that the official installation instructions, which are included in every package, are followed, otherwise all warranty and guarantee claims will be void!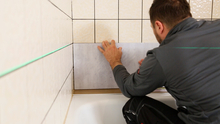 button
2. laying
Now start with the gluing. Peel off the protective film on the back of the panels. Stick on the TESA adhesive strips and fix the plank well aligned to the wall. To cut a plank, first take measurements and mark the plank. Then take an angle and tear the plank with a multi-purpose knife/cutter. Then break off the plank and stick a TESA adhesive strip on the back of each cut edge before fitting. Finally, the end strips/ edge profiles/ skirting boards can be attached to the wall with the TESA adhesive strips.
ATTENTION: Edge distances of approx. 4 mm must be observed.
What you will need to make it yourself
Material:
DesignWall Aqua
TESA adhesive strips
Tools:
Cutter knife
Pencil
Angle iron
Spirit level
optional:
Skirting board
Skirting board
Individual offer?
Are you looking for a lower price? Just ask us for an individual offer!