Description
planeo is the brand for professional solutions with tested quality. In our extensive range, you will find first-class products for home and garden, from floors to wall coverings to decking: we offer you suitable items with a top price-performance ratio for almost every requirement and budget. We also have product lines such as carpets, wall paints, wallpapers and doors. The range of attractive offers for walls, floors and patios is rounded out by high-quality accessories and effective cleaning and maintenance products. Meanwhile, planeo's services go beyond the trade in floor coverings.
We put great emphasis on the idea of service in everything we do. We deal with the topics of material, handling and realisation in such detail that we can provide you with an adequate solution for many different situations on the building site. To make things more clear, you can find useful tips and instructions in our guides with articles and videos. Beautiful flooring and more? Realise easily with planeo.
Technical Details

| | |
| --- | --- |
| item no. | DB00118-WV |
| Manufacturer | planeo |
| Length in mm | 1200 |
| Width in mm | 180 |
| Thickness in mm | 2 |
| Material | Vinyl |
| suitable for | Shower, Bath, Bedroom & living room, Hallway & Corridor |
| Installation type | glue |
| Look | Wood effect |
| EAN | 4062212058183 |
| Collection | DekoWall |
| Piece per package | 18 |
| Shipping group | S |
| Weight | 13,62 kg/Packing |
| Package Content | 3.89 m² |
| | Show all data ▼ |
We will help you with your questions!
A specialist adviser will be happy
to advise you personally.
☎ +49 5222 960 4810
Mon - Fri:
9am - 6pm

Sat:
9am - 2pm
Recommended installation in wet cells
Variant: DIY Instruction
button
1. priming & setting profiles
The substrate must be clean, dry, level and load-bearing before application. Start by priming the surface. Now set the profiles with an installation adhesive or filler and lightly trowel them in place. Make sure that any excess should be sanded off after the drying time.
button
2. glue the waterproofing membrane
Cut the sealing membranes to size and apply the 2-component mortar compound to the wall with a notched trowel. Please follow the processing instructions for the mortar. Now the sealing membranes can be glued butt to butt and pressed on with a trowel to prevent air pockets. Sewage pipes, drains and connections must also be brushed in and sealed overlapping. Connections and corners are sealed with special external, internal corners and sealing collars.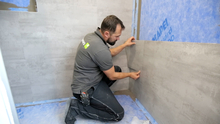 button
3. glue vinyl
The next step is to plan the installation pattern and cut the vinyl panels to size. Staggered or butt-to-butt installation is possible. You must also decide beforehand whether you want to lay the panels with or without a joint. Now the adhesive can be applied over the entire surface with a fine notched trowel and the panels attached to the wall and rolled on. The first row must be precisely aligned. When laying with a joint, use tile crosses as spacers. While the adhesive is still fresh, the joints should be cleaned. Then apply the grout to the other walls and glue in the same way. The gutter is glued with Flex tile adhesive and then trowelled. The respective drying times must be observed.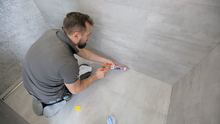 button
4. grouting, sealing, applying silicone
Grouting: Stir the grout well after opening and fill the joints using a grout board. When the grout sets, wash off the residue with fresh water, circular motions and little pressure.
Seal: Lightly sand the surface with a red sanding pad before sealing and carry out a basic cleaning. Profiles and other objects must be masked off. Pour the 2 components together and stir well. Then apply the sealer evenly with a brush to hard-to-reach areas and corners and seal the surface with a roller. Care should be taken here to prevent runners.
Apply silicone: Finally, seal the corners and remaining gaps with the sanitary silicone.
What you will need to make it yourself
Material:
Primer: 1558205
Filler: 7347210
Composite sealant: 2857006 and 2850210
Adhesive: 3586207
Joint: 4KJ012005
Sealer: 3586302
Tools:
Spirit level
Cutter knife
Whisk
Trowel
Toothed spatula
Difficulty level:
Individual offer?
Are you looking for a lower price? Just ask us for an individual offer!