Description
Properties:
Deeply consolidating effect for almost all surfaces.
Ideally suited for production areas e.g. of luxury food & beverages, poorly ventilated or explosive areas, as no solvent vapours are formed.
Alkali-resistant
Plasticiser-free
Solvent-free and free of harmful emissions
Substrate:
Must be clean, free of grease, dry and load-bearing. Loose layers must be removed. For substrate VOB, Part C, DIN 18363 and the corresponding BFS leaflets must be observed for substrate preparation and application. instruction sheets must be observed.
Field of application:
Exterior and interior for chalking, slightly sanding and absorbent substrates.
planeo is the brand for professional solutions with tested quality. In our extensive range, you will find first-class products for home and garden, from floors to wall coverings to decking: we offer you suitable items with a top price-performance ratio for almost every requirement and budget. We also have product lines such as carpets, wall paints, wallpapers and doors. The range of attractive offers for walls, floors and patios is rounded out by high-quality accessories and effective cleaning and maintenance products. Meanwhile, planeo's services go beyond the trade in floor coverings. We put great emphasis on the idea of service in everything we do. We deal with the topics of material, handling and realisation in such detail that we can provide you with an adequate solution for many different situations on the building site. To make things more clear, you can find useful tips and instructions in our guides with articles and videos. Beautiful flooring and more? Realise easily with planeo.
We will help you with your questions!
A specialist adviser will be happy
to advise you personally.
☎ +49 5222 960 4810
Mon - Fri:
9am - 6pm

Sat:
9am - 2pm
Primer
Variant: DIY-Instruction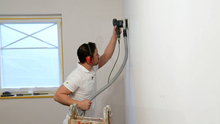 button
1. areas of application
The primer is suitable for exterior and interior use for the following areas of application:
- on new and old plaster surfaces
- on slightly absorbent and non-absorbent mineral substrates, e.g. cement plaster, lime-cement plaster, concrete and plasterboard (without lignin bleeding)
- on coatings based on dispersion, silicone resin and silicate (without silicification) or for wallpapering.
ATTENTION: Gypsum plaster must be tested for suitability beforehand. For sanding, chalking and absorbent substrates (e.g. machine gypsum plaster, light plasters, etc.) we recommend the use of Planeo deep primer.
Before starting the primer, fill any unevenness in the wall and sand the unevenness so that the wall is nicely even, crack-free and firm.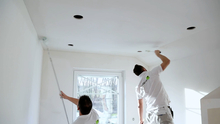 button
2. primer
First, we recommend masking off the windows and other permanently installed objects. For this, use a good quality masking tape and adhesive film, otherwise you may end up with unsightly sticky spots. The floor can also be protected from paint stains by spreading a painter's fleece to reduce the absorbency of the wall and ceiling, prime them now. First paint the edge areas with a brush and then the entire surface with a roller. After about 24 hours of drying time, the wall can be painted or wallpapered.
What you will need to make it yourself
Material:
Tools:
Paper masking tape
Cotton fleece
Stirrup
Roller
Roller
optional:
Paper tape with foil
Brush
Gloves
Working time:
approx. 2 hours for a room size of 15-20 m².
Level of difficulty:
Individual offer?
Are you looking for a lower price? Just ask us for an individual offer!