We just need your E-Mail and shipping address.
Feel free to add more samples to your sample cart afterwards.
Description
The silentComfort underlay mat is specially designed for floating installation under wineo Purline organic flooring or wineo design flooring. The anti-slip and acoustic mat from wineo was specially developed for the design floor as a click version. In this case, the design floor is laid to click on the lightly adhering surface. In this way, the floor covering does not slip and offers you more safety. At the same time, the wineo silentComfort insulation mat helps to reduce footfall sound and also conceals minimal floor unevenness.
Thickness: approx. 1.5mm
Roll format: approx. 10 x 1m / 10m² per roll
Weight: 1,5kg/m²
Impact sound reduction: approx. 16 dB
Walking sound reduction: approx. 22% (

±

2%)
Pressure stability: up to 44t/m²
Suitable for installation on all conventional warm water underfloor heating systems
Protective foil: PET foil - to be removed before laying DESIGNLINE Connect!
As a brand of the internationally active company Windmöller, Wineo operates in over 70 countries with quality floors for a wide range of applications. Originally created through the merger of the family-owned companies Windmöller and Witex, the East Westphalian group based in Augustdorf has been operating under the Wineo name since 2013. The sustainably produced floor coverings from Wineo feature the "Made in Germany" seal of quality and provide the optimum flooring solution for private areas, public facilities and light industry. All Wineo products undergo a 7-fold quality control and meet the highest standards. The 3rd generation family business is aware of its high social and ecological responsibility and has been focusing on environmentally compliant product design for years.
At Wineo you have the choice between PURLINE organic flooring, design floors for gluing or clicking as well as laminate flooring in different usage classes and formats. Additionally, the company offers skirting boards, aluminium profiles, insulation mats, and more. Create a stylish effect in your rooms with the resilient floor coverings in trendy designs from Wineo!
We will help you with your questions!
A specialist adviser will be happy
to advise you personally.
☎ +49 5222 960 4810
Mon - Fri:
9am - 6pm

Sat:
9am - 2pm
Installation instructions for impact sound insulation rolls
Variant: DIY instructions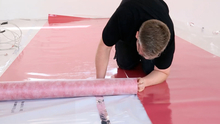 button
1. Preparation & placing of the rolls

Observe the official laying instructions provided in every package before laying the rolls, otherwise any warranty or guarantee claim will be invalid.
The subsurface should be firm, level, dry, and dust-free before laying. Before placing, thoroughly vacuum the subfloor. Store the insulating mat in the room for about 24 hours before installing it to allow the material to adapt. As soon as the substrate has been checked, the first sheet can be laid out in a well-positioned spot in the opposite direction of the top floor covering. Simply cut the first mesh from the roll using a cutting knife to separate it from the roll. When installing parquet, the rough side is laid down. When placing vinyl, the rough side should be up. A cutting knife can easily separate the mesh. To avoid overlap, the succeeding lanes are now placed end to end on the ones already in place.
ATTENTION: Please note that the edge distances of about 5 mm from the wall should be maintained.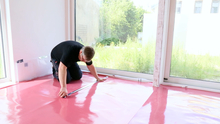 button
2. Fix panels

To prevent the footfall sound insulation strips from slipping while paving the floor, secure them at the abutting edges using aluminium tape. Check that the strips do not overlap. There should be places of contact only at the abutting edges. You can now begin to install the floor.
To make your own, you will need this
Material:
Impact sound insulation rolls
Tools:
Working time:
Approximate time: 1-2 hours for a room of 15-20 m2.
Difficulty level:
Individual offer?
Are you looking for a lower price? Just ask us for an individual offer!