We just need your E-Mail and shipping address.
Feel free to add more samples to your sample cart afterwards.
Description
The alternative to glue !
The planeo silent stick is the alternative to adhesive, especially for floating installation (with one-sided fixing) under design floor coverings. The mat compensates for minor unevenness and reduces impact sound. It is free from plasticisers, chlorine, asbestos, formaldehyde, halogen substances and heavy metals according to VOC guidelines, Afsset A+ and the guidelines of the AGBB scheme.
Thickness: approx. 1.8mm
Roll format: approx. 6.5 x 1m / 6.5m² per roll
Weight: approx. 2.2 kg/m² | 14.3kg/roll
Impact sound reduction: up to 15 dB
Thermal resistance: 0.01 (m² K) / W
Smaller unevennesses are evened out
Made from up to 90 % natural raw materials
Suitable for installation on all conventional hot water underfloor heating systems
planeo is the brand for professional solutions with tested quality. In our extensive range, you will find first-class products for home and garden, from floors to wall coverings to decking: we offer you suitable items with a top price-performance ratio for almost every requirement and budget. We also have product lines such as carpets, wall paints, wallpapers and doors. The range of attractive offers for walls, floors and patios is rounded out by high-quality accessories and effective cleaning and maintenance products. Meanwhile, planeo's services go beyond the trade in floor coverings.
We put great emphasis on the idea of service in everything we do. We deal with the topics of material, handling and realisation in such detail that we can provide you with an adequate solution for many different situations on the building site. To make things more clear, you can find useful tips and instructions in our guides with articles and videos. Beautiful flooring and more? Realise easily with planeo.
We will help you with your questions!
A specialist adviser will be happy
to advise you personally.
☎ +49 5222 960 4810
Mon - Fri:
9am - 9pm

Sat:
9am - 2pm
Installation instructions for Silent Stick footfall sound insulation
Variante: DIY instructions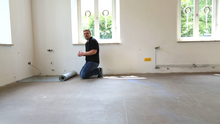 button
1. Substrate preparation

The impact sound insulation can be installed on hard, permanently dry, and level subfloors. The surface should be swept and dust-free before processing. Start installing the insulating mat about 24 hours before putting the floor to allow the material to acclimatise.
ATTENTION: Please note that laying over carpets is not possible.
button
2.
Placing of impact sound insulation
Before laying, the official laying instructions, which are included in every package, must be followed, else any warranty and guarantee claims will be considered invalid!
Unroll the sheet slowly and gently, ensuring that the rough side of the impact sound insulation is facing down. The film side must be facing upwards. After laying the membrane, the foil can be sliced with a cutter knife. The following rows are set end to end to the lengths that are already in place.
Tip: When a roll ends, the last 20 cm of the roll should not be used as it lacks the essential adhesion.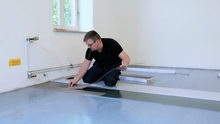 button
3. Glue the bottom

To enable the floor to be bonded, remove the foil from a few rows of floorboards roughly. Once the planks have been exactly positioned across the insulation and fastened, press them down firmly. A second sheet of foil is removed once the first row has been bonded, allowing the planks to be attached end to end to the already-installed planks. Roll the planks firmly against the insulation once more.
To make your own, you will need this
Material:
Impact sound insulation box
Tools:
Working time:
Approximate time: 1-2 hours for a room of 15-20 m2.
Difficulty level:
Individual offer?
Are you looking for a lower price? Just ask us for an individual offer!