Description
Thin PE film. As a separating layer between screed and insulation underlay under all hard floor coverings. The PE vapour barrier is not required for wooden subfloors. The PE vapour control layer corresponds to the technical values of a 0.2 mm PE foil.
Once a laminate or parquet floor has suffered moisture damage, it is usually necessary to replace the entire floor covering. This PE vapour barrier forms a permanent barrier between the subfloor and the covering, thus extending the longevity of your floor. The installation of a vapour barrier is indispensable for fresh screed, which continues to release moisture long after it has been installed.
planeo is the brand for professional solutions with tested quality. In our extensive range, you will find first-class products for home and garden, from floors to wall coverings to decking: we offer you suitable items with a top price-performance ratio for almost every requirement and budget. We also have product lines such as carpets, wall paints, wallpapers and doors. The range of attractive offers for walls, floors and patios is rounded out by high-quality accessories and effective cleaning and maintenance products. Meanwhile, planeo's services go beyond the trade in floor coverings. We put great emphasis on the idea of service in everything we do. We deal with the topics of material, handling and realisation in such detail that we can provide you with an adequate solution for many different situations on the building site. To make things more clear, you can find useful tips and instructions in our guides with articles and videos. Beautiful flooring and more? Realise easily with planeo.
Technical Details
item no.
PE-001G
Manufacturer
planeo
Length in mm
30000
Width in mm
1000
Thickness in mm
0.125
EAN
4062212157442
Piece per package
1
Shipping group
S
Weight
3,40 kg/Packing
suitable for
Vinyl floor, Parquet flooring, Laminate flooring
Package Content
1 Rolle
Show all data ▼

Downloads
planeo Dampfbremse - Datenblatt
We will help you with your questions!
A specialist adviser will be happy
to advise you personally.
☎ +49 5222 960 4810
Mon - Fri:
9am - 6pm

Sat:
9am - 2pm
Installation instructions for impact sound insulation rolls
Variant: DIY instructions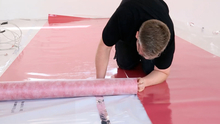 button
1. Preparation & placing of the rolls

Observe the official laying instructions provided in every package before laying the rolls, otherwise any warranty or guarantee claim will be invalid.
The subsurface should be firm, level, dry, and dust-free before laying. Before placing, thoroughly vacuum the subfloor. Store the insulating mat in the room for about 24 hours before installing it to allow the material to adapt. As soon as the substrate has been checked, the first sheet can be laid out in a well-positioned spot in the opposite direction of the top floor covering. Simply cut the first mesh from the roll using a cutting knife to separate it from the roll. When installing parquet, the rough side is laid down. When placing vinyl, the rough side should be up. A cutting knife can easily separate the mesh. To avoid overlap, the succeeding lanes are now placed end to end on the ones already in place.
ATTENTION: Please note that the edge distances of about 5 mm from the wall should be maintained.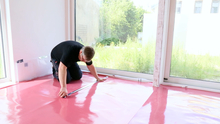 button
2. Fix panels

To prevent the footfall sound insulation strips from slipping while paving the floor, secure them at the abutting edges using aluminium tape. Check that the strips do not overlap. There should be places of contact only at the abutting edges. You can now begin to install the floor.
To make your own, you will need this
Material:
Impact sound insulation rolls
Tools:
Working time:
Approximate time: 1-2 hours for a room of 15-20 m2.
Difficulty level:
Individual offer?
Are you looking for a lower price? Just ask us for an individual offer!